Gone are the days of tangled strings!
With just one click, your blinds will unfold or fold up, without tearing and while remaining perfectly aligned. Somfy motorization is also perfect for large windows, high blinds or blinds that are difficult to access!
Switching to motorized mode has never been easier! Your motorized blind will be installed in the blink of an eye without tampering with your interior decoration.
Somfy's electric curtain track runs on battery power, with a concealed motor (in a tube or casing). It allows the central or lateral opening of the curtains and blends harmoniously into the decor.
Advantages of Somfy electric motors
Sonesse silent range
Designed for interior applications.
"my" app
Allows perfect alignment of all your blinds with centralized remote control.
100% wireless WireFree® motor range
Autonomous, they run on battery or solar panel with an autonomy ranging from 1 to 5 years depending on use. No electrical connection required to switch to motorized blinds!
Ready for domotics
Somfy tips and advice
Click on the title to learn more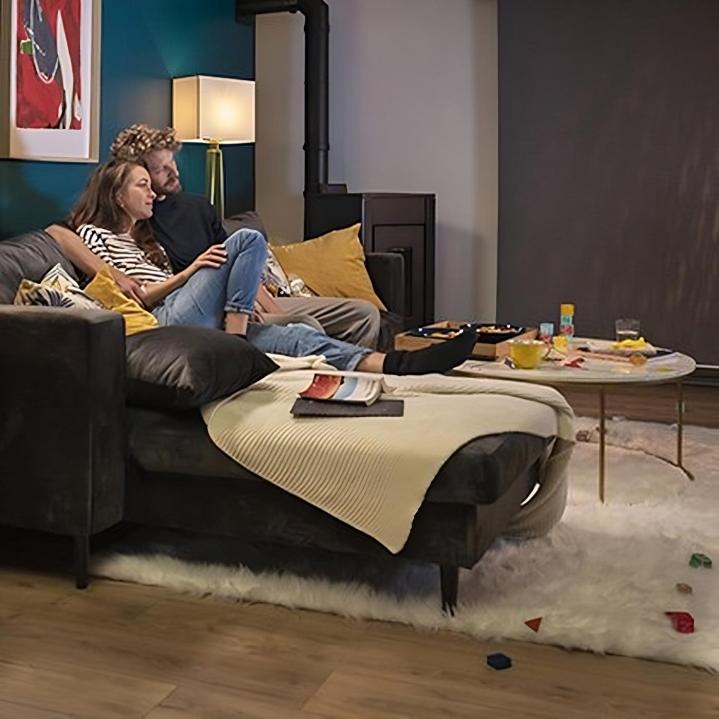 Increased privacy at night

Set your blinds to close automatically when the lights are turned on at dusk.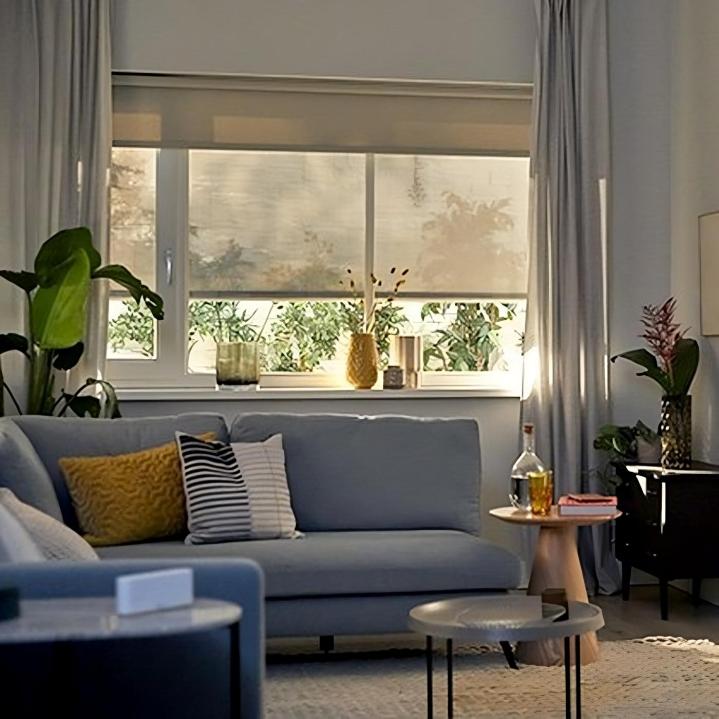 Protection from sunlight

A sunlight sensor on your facade automatically activates the blinds at the desired time. The interior remains cool. Furniture, upholstery and flooring are shielded from direct sunlight.
Technologies and compatibility
Thanks to Somfy's wireless technologies, you can easily manage your home for greater comfort and safety. Motorized equipment communicate with each other wirelessly by radio. It is, thus, possible to centrally remote control them.
As your needs and budget evolve, you can easily upgrade your existing installations without having to replace them, by simply adding new equipment. This is the opportunity to switch to the connected home while preserving your house's aesthetics.
io-homecontrol®
Multi-brand wireless technology
A benchmark for professionals, io-homecontrol® technology, is a radio protocol used by major brands: Velux for roof windows, Ciat, Honeywell and Atlantic for heating and of course, the ultimate Somfy motorization! It is the industry-leading technology for housing brands.
Io-homecontrol® technology is:
Intelligent: through regular feedback, it keeps you informed of the status of your appliances in real-time. Monitor the execution of commands without leaving your seat. Ideal for remote control!
Highly secure: its encryption key is unique to each installation. This ensures complete protection against hacking.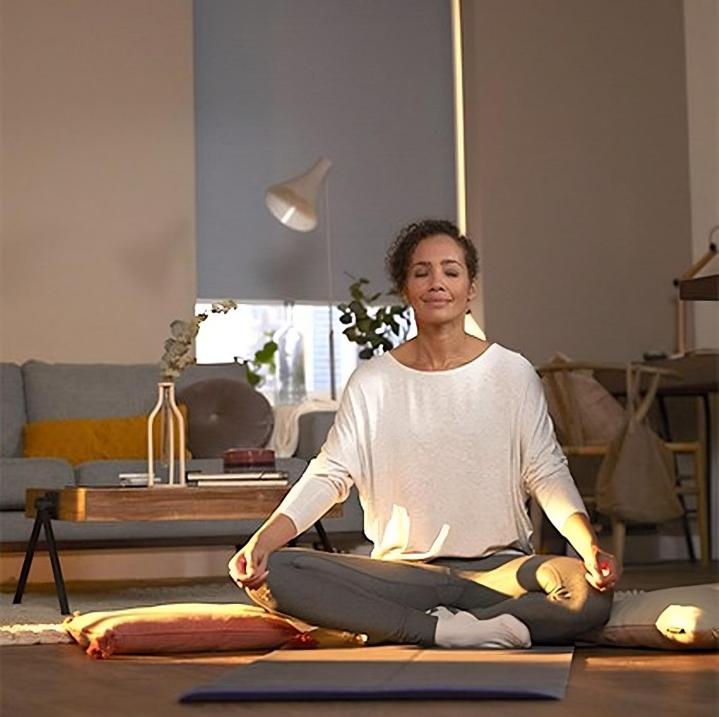 RTS
Somfy's wireless technology
RTS is Somfy's historic radio protocol: more than 10 million pieces of equipment installed. It is the reference technology for our available solutions.
Actors of decoration, guardians of privacy
A velvet curtain or a few light-printed sheers can drastically change your house's atmosphere! Curtains also add comfort and intimacy to your home.
Motorization
Motorizing your curtain will change your life!
Somfy's electric track allows the central or lateral opening of the curtains and blends harmoniously into the decor. Create your own decorative atmosphere and move on to the connected home.
Why choose an electric curtain track?
Gone are the days of tangled strings! With just one click, your blinds will unfold and hide you from onlookers or protect you from sunlight.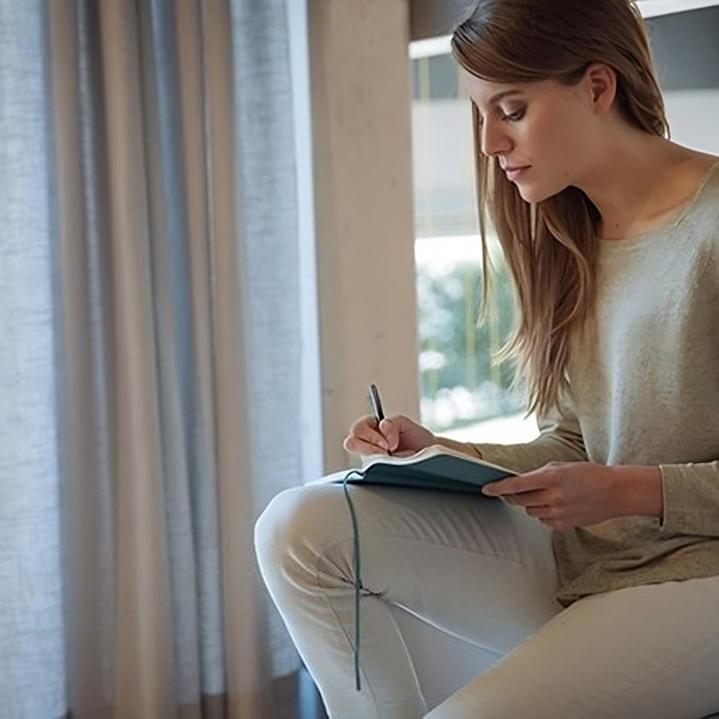 Advantages of Somfy's electric motors
Robust motorization
Smooth and fluid manipulation
"Touch motion" feature
Motorization is activated whenever someone pulls the curtains
Evolutionary motorization
Easy upgrade to home automation
Favourite position memory
MY function on remote control
Adjustable speed with Glydea range
Motorization adapts to your needs
Why somfy?
Innovations, services, guarantees...
Much more than just a curtain motor!
Built-in intelligence
Upgrade your home with an electric track equipped with radio technology! Once the first equipment is installed, you can easily add other features, such as remote control, curtain centralization with other Somfy equipment, installation of a home automation box to manage your home from a tablet or smartphone...
Products designed in a Research & Development centre at the cutting edge of innovation and technology
Products tested and controlled following rigorous specifications to guarantee quality, performance and durability
Compliance with the most demanding safety standards on the market
Choose my solution
Have your electric curtain track installed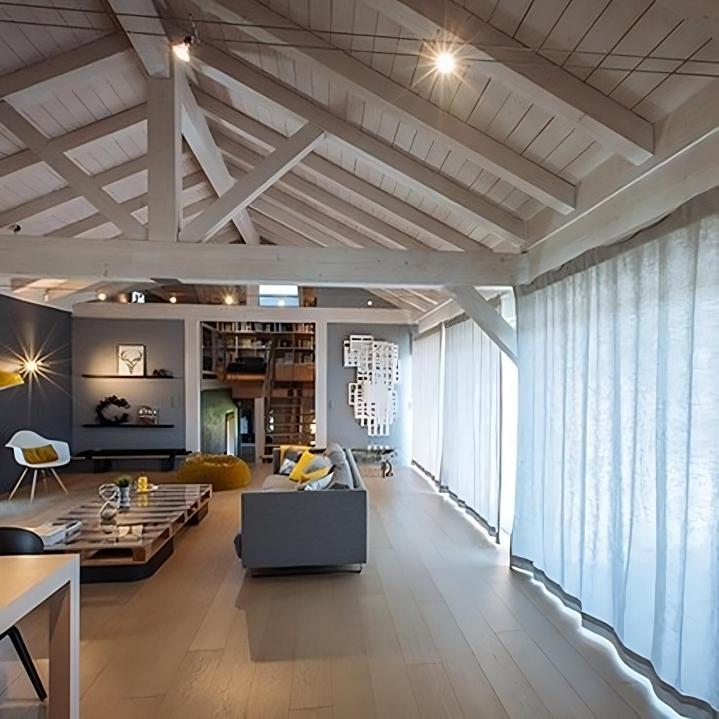 Please feel free to inquire about our services.